The KIT-AR augmented worker platform closes a round of funding of 2 million euros
In Augmented Reality News
June 24, 2022 – KIT-AR, a provider of an augmented work platform for the manufacturing industry, announced this week the closing of a €2 million seed-stage financing round. KIT-AR said the funding will help the company pursue its vision of becoming the go-to platform for augmented workers in manufacturing.
The investment round was co-led by Armilar Venture Partners and Caixa Capital Risc, with participation from RKKVC and the Techtree fund (managed by Iberis Semper), including follow-on investments from Sintef Venture V and Best Horizon.
Today, KIT-AR's patent-pending solution leverages emerging technologies, such as Augmented Reality (AR) and Artificial Intelligence (AI) to consistently reduce errors in complex production, logistics and quality control, for customers in the automotive, aerospace and electronics manufacturing industries. Industries.
"We hear about the perils of automation and the rise of robots, but the reality is less dramatic. Augmented workers are already developing synergies between man and machine to harness new strengths and overcome their shortcomings," said Manuel Oliveira, CEO of KIT-AR. "We are committed to improving workers so that they can do their jobs right every time, all the time."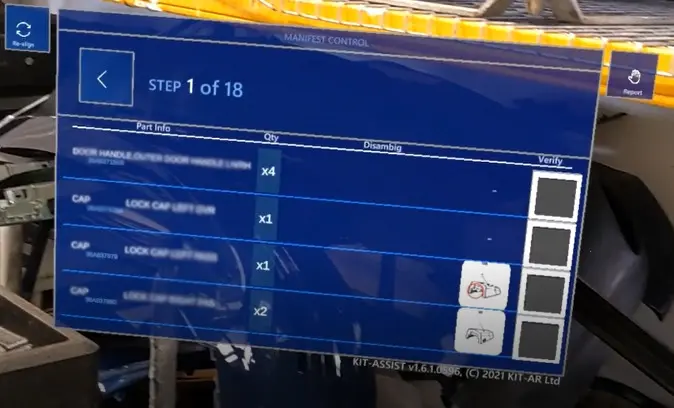 João Dias, Director at Armilar Venture Partners, said: "Frontline workers in industrial companies are facing increasing challenges, especially having to execute more complex instructions in less time, potentially generating production stoppages and defects. . Augmenting these frontline workers with technology-enabled tools is crucial, not only at the level of instructional support, but most importantly by providing 5G-enabled mobile automated quality control systems. This is an area where KIT-AR has developed industry-grade proprietary intellectual property, derived from leading research institutions and already validated by early industrial customers.
David Sola, Director of Caixa Capital Risc, also commented on the investment: "We believe we are facing an exceptional moment for large-scale adoption of AR technologies in manufacturing and industrial processes. The increasing complexity of the tasks to be performed, the costs associated with disconnecting the employee from manufacturing execution systems, and the state of the art of technologies required for the large-scale implementation of AR are some of the drivers that support this thesis.
"Our team is ready and eager for this next step," emphasizes Manuel Oliveira, "KIT-AR is at the forefront of today's industrial revolution and, thanks to our strong research DNA and our truly innovative mindset, we We will continue to be a forerunner. We will push the boundaries of technology with a human-centric vision and increase workers everywhere. Starting today, we are actively seeking to connect with all manufacturing companies that share this vision with us. of excellence".
For more information on KIT-AR and its augmented reality solutions for workers in the manufacturing industry, please visit the website.
Image credit: KIT-AR