Rebels No. 2 welcome two familiar midweek foes to Swayze Field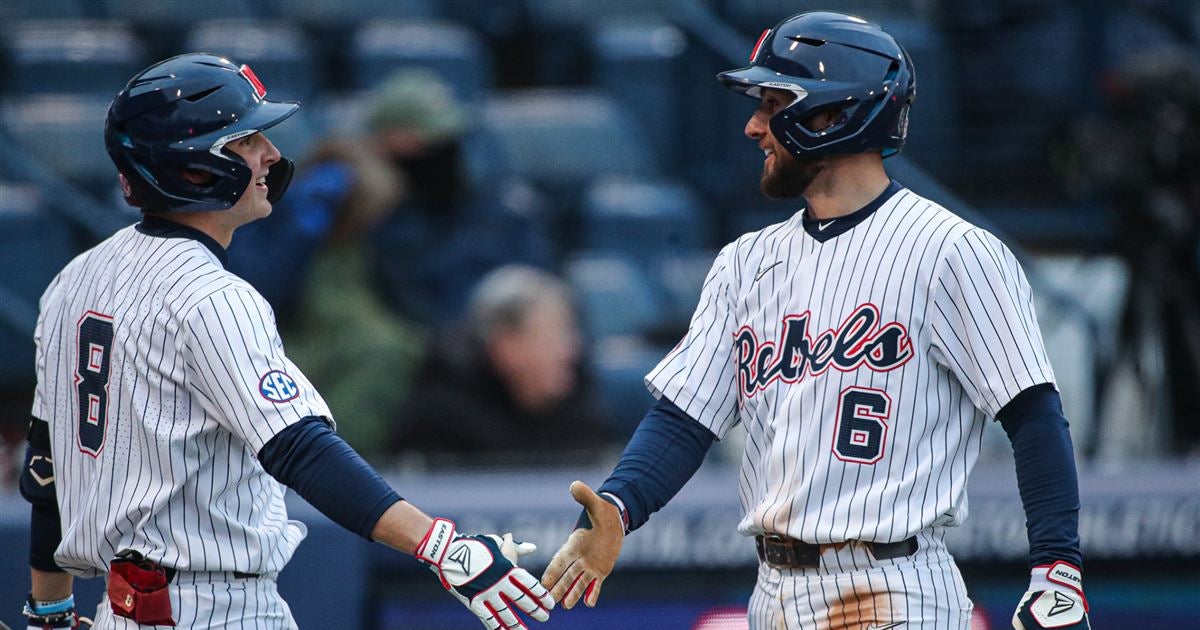 The Ole Miss baseball team is back in Oxford to start another homestand, starting with back-to-back midweek games with the Memphis Tigers and Alcorn State Braves. The Rebels are still among the top teams in college baseball, staying as high at No. 2 according to D1Baseball, USA Today and the National Collegiate Baseball Writers Association (NCBWA) and will be looking to start and continue a new winning streak this week.
In their previous action, the Rebels took two of three from a tough UCF squad last weekend, but lost their team-RBI manager Kevin Graham in the process. Monday's scans revealed that Graham had fractured the scaphoid in his wrist and as a result, he will undergo surgery on Wednesday to insert a pin there. This will cause Graham to miss about a month of action. Obviously, expect some changes in the outfield. Kemp Alderman will likely take his place for the time being while TJ McCants and Justin Bench will occupy right field and center field, respectively. Hayden Leatherwood is also expected to continue filming in some of these outdoor areas. Research them to figure out how to replace his production and defensive prowess starting at 6:30 p.m. tonight.
Nearby Memphis will be first for Ole Miss, having lost two of three to Nicholls. Landon Gartman is expected to start on the mound with 10 innings, a 2.70 ERA and 15 strikeouts under his belt. At home plate, third baseman Logan Kohler and Jacob Compton have been their primary boppers so far. Kohler is batting .368 and has 14 hits with three home runs. Compton is averaging .375 with 15 hits and one out of the park.
As always, Inside The Rebels will be on hand to provide updates, notes, facts, observations and more. You can find more information and statistics below.
HOW TO WATCH, LISTEN AND FOLLOW:
Who: Ole Miss (10-1, 0-0 SEC) vs. Memphis (6-4, 0-0 American)… Alcorn State (0-7, 0-0 SWAC)
Where: Oxford, Mississippi, Oxford-University Stadium/Swayze Field (11,477)
When: Tuesday, March 8, 6:30 p.m. (CST)… Wednesday, March 9, 6:30 p.m. (CST)
Radio: Ole Miss Radio Network
Talents: Eli Savoie (PxP), Brad Henderson (Color)
Television: SEC+ Network
Talent: Richard Cross (PxP), Keith Kessinger (Analyst)
Webcast: WatchESPN
Game Feed: Inside The Rebels
STARTING PITCHER:
TUESDAY —– Jack Washburn – RHP (1-0 WL, 9.0 IP, 1.00 ERA, 11 K, 7 BB)
WEDNESDAY —– TBD
PROJECTED STARTING ROSTER: (No command)
Hayden Dunhurst – C (.231 avg, 4 R, 3 H, 2 RBI)
Tim Elko – 1B (.205 avg, 12 R, 8 H, 5 HR, 14 RBI)
Peyton Chatagnier – 2B (.243 avg, 9 R, 9 H, 2 HR, 13 RBI)
Reagan Burford – 3B (.429 avg, 8 R, 6 H, 8 RBI)
Jacob Gonzalez – SS (.257 avg, 14 R, 9 H, 2 HR, 8 RBI)
Kemp Alderman – LF (.368 avg, 7 R, 7 H, HR, 5 RBI)
Justin Bench – CF (.342 avg, 9 R, 1 PM, 10 RBI)
TJ McCants – RF (.394 avg, 10 R, 1 PM, 2 HR, 10 RBI)
Ben Van Cleve – DH (.417 avg, 5 R, 5 H, 3 RBI)
DRY CLASSIFICATION:
SEC East:
Tennessee (10-1)
Missouri (9-1)
Kentucky (10-2)
Vanderbilt (10-2)
Georgia (9-2)
Florida (10-3)
Caroline from the south (7-4)
—
SEC West:
Ole Miss (10-1)
Auburn (11-2)
USL (9-3)
Arkansas (7-3)
Alabama (9-4)
Texas A&M (7-4)
Mississippi State (6-6)